Sweetcorn fritters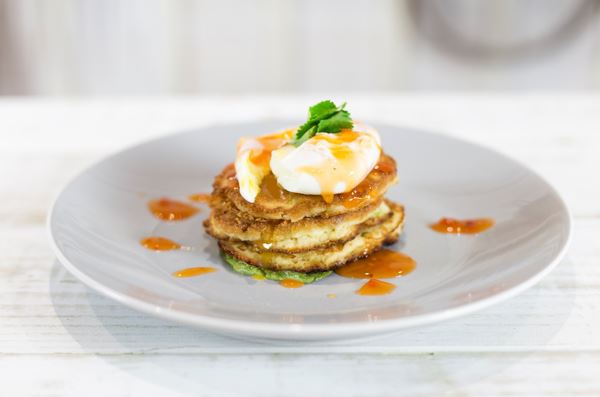 Serves 4
Ingredients
Salsa:
· 2 ripe avocados
· Chopped coriander
· ¼ finely chopped red onion
· Juice of 1 lime
· Salt and pepper
Fritters:
· 90g drained sweetcorn
· 30g Biona Organic Coconut Flour
· 3 eggs
· 1 tsp baking powder
· 1 spring onion
· 150ml almond milk
· 1 tsp Biona Organic Coconut Oil
· Salt and pepper to season
Poached eggs on top:
· Cook with a splash of Biona Organic Apple Cider Vinegar
Optional: Drizzle over some Biona Organic Sweet Chilli Sauce at the end
Method
· Chop the avocado and onion up finely and place in a bowl.
· Mix well with the lime juice and chopped coriander, mushing the salsa with a fork.
· Season and set aside.
· Mix the coconut flour and baking powder in a large bowl and whisk in the eggs.
· Slowly add the milk, whisking until a batter is formed.
· Stir in the spring onion and sweetcorn.
· Pour the coconut oil onto a frying pan and place on a high heat.
· Spoon the batter onto the frying pan, forming circles.
· After 2-3 minutes or until golden brown, flip the fritter carefully and repeat on the other side.
· While the fritters are cooking, get a shallow pan of boiling water and add the apple cider vinegar.
· Gently crack the eggs into the water and remove once cooked to preference.
· Place the fritters on a plate on top of a spoon full of salsa, topping with the egg.
· Season with salt and pepper and drizzle with sweet chilli sauce.
Windmill products used in this recipe