Healthy Apple Crumble recipe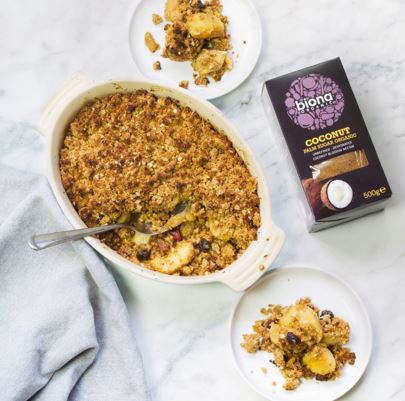 Ingredients
For the filling:
· 8 small/medium apples, peeled, cored and chopped
· 1 tsp lemon juice
· 75g Biona Organic Coconut Sugar
· 100g raisins
· 1 orange, juice and zest
· Heaped 1/2 tsp cinnamon
For the Topping:
· 75g Biona Organic Coconut Sugar
· 30g Biona Organic Coconut Flour
· 60g gluten-free oats
· 30g oat flour
· 1/4 tsp cinnamon
· Pinch salt
· 90g margarine, melted
For greasing:
· Biona Organic Coconut Oil
Method
· Preheat oven to 190C and lightly grease a 9×9 baking dish with some coconut oil.
· Add apples to a large bowl or plastic bag and sprinkle with lemon juice. Toss to coat with the coconut sugar and cinnamon.
· Then add the raisins, orange juice and zest.
· Transfer to baking dish and set aside.
· Add the coconut sugar, flour, oats, oat flour, cinnamon and salt to a bowl and stir. Add melted margarine and mix.
· Sprinkle the topping mixture over the apples and bake until apples are soft and topping is golden brown (around 30 minutes).
· Let it rest 10-15 minutes before serving.
Windmill products used in this recipe