Green Goddess Houmous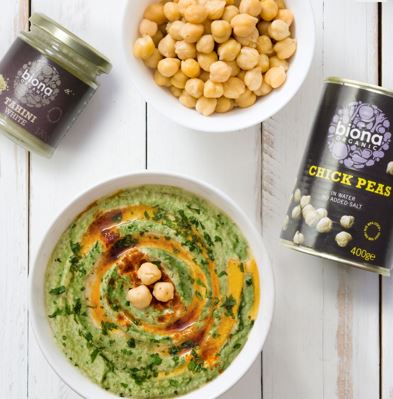 Prep time: 3 mins
Cook time: 5 mins
Ingredients
· 3 heaped tbsp Biona Organic Tahini
· 4 tbsp fresh lemon juice
· 2 tbsp Biona Organic Olive Oil
· 15g roughly chopped, loosely packed fresh parsley
· 60g roughly chopped spinach
· 2 to 3 tbsp roughly chopped fresh chives
· 1 large garlic clove, roughly chopped
· Pinch of salt
· 1 can Biona Organic Chickpeas, drained and rinsed
· Garnish with fresh chilli, olive oil and a sprinkling of chopped fresh herbs
Method
· Combine the tahini and lemon juice together in a food processor to make them ultra smooth and creamy.
· Add the olive oil, parsley, spinach, chives, chopped garlic and salt to the whipped tahini and lemon juice mixture. Process for about 1 minute.
· Add half of the chickpeas to the food processor and process for 1 minute. Scrape down the bowl, then add the remaining chickpeas and process until the houmous is thick and quite smooth.
· Pour the houmous into a small serving bowl. Drizzle with olive oil and sprinkle with additional chopped herbs and some finely chopped fresh chilli.
· Store houmous in an airtight container and refrigerate for up to one week.
Windmill products used in this recipe