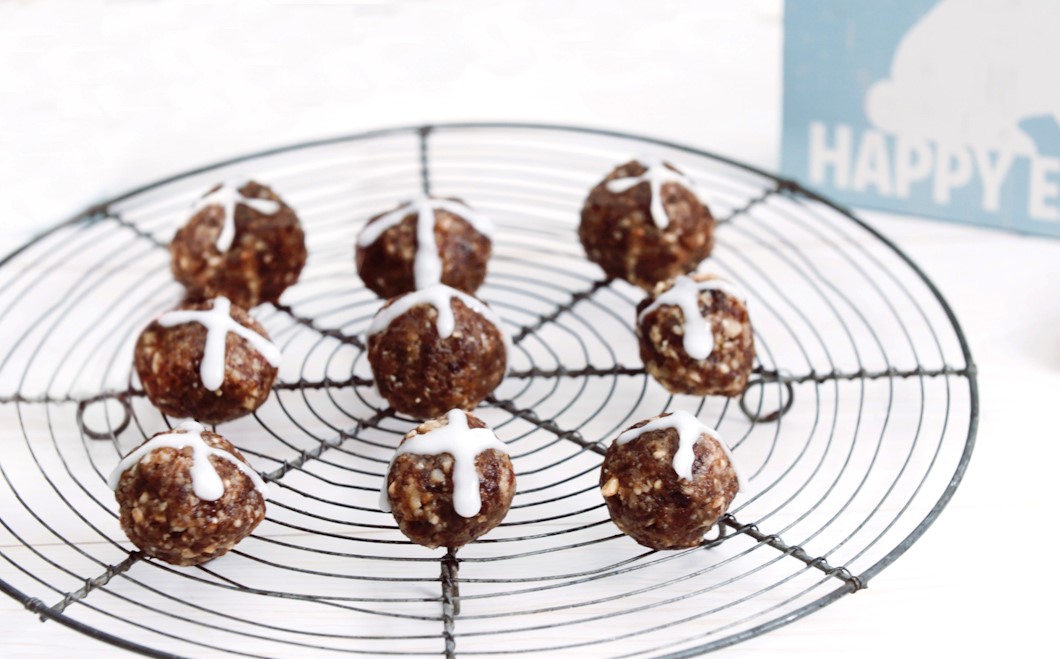 Raw Hot Cross Buns:
Ingredients:
• 1 cup walnut pieces (or other nuts, or dried white mulberries for a nut-free and AIP-friendly version)
• 6 soft medjool dates
• 3 tbsp Biona coconut oil, softened
• 2 tbsp Biona Agave & Maple Syrup
• ⅔ cup raisins (or other dried fruit -- pre-soak if these are very hard).
• 1 tsp cinnamon
• a pinch of allspice and nutmeg
• Dash of salt
Cross Ingredients
• 3 tbsp Biona coconut butter, warmed a little so it's soft
• 1 tbsp Biona coconut oil, softened
• 1 tbsp Biona agave maple syrup
• a pinch of cinnamon
Method:
Place all cookie ingredients in a food processor and process into a cumbly sticky mixture. Roll into little balls (mixture makes about 9 balls), place on a tray/ plate lined with parchment paper and press down lightly to flatten. Place the tray in the freezer for about 15 minutes for the cookies to set.
Prepare the cross mixture by placing all ingredients in a mini food processor or blender. Blend into a smooth mixture. Transfer into a piping bag or a sturdy zip lock bag. Once the buns are chilled, remove tray from freezer. Snip off the corner of your piping bag and pipe out the crosses over each bun. Because the buns are chilled the cross mixture will set pretty quickly. Store in the fridge or enjoy straight away.
Windmill products used in this recipe