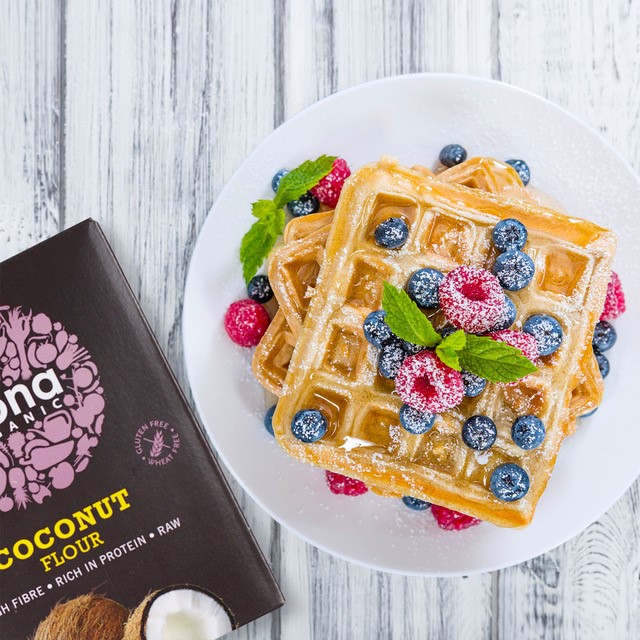 Ingredients (waffle batter)
4 large eggs
1 tbsp Biona Organic Agave & Maple Syrup
1 Pinch salt
2 tbsp Biona Organic Coconut Oil
90ml Biona Organic Coconut Milk
1 tsp Vanilla Extract
80g Biona Organic Coconut Flour
¼ tsp baking powder
150g blueberries, raspberries and a dusting of icing sugar to serve
Method:
TO PREPARE coconut flour waffles, start preheating a waffle iron according to the manufacturer's instructions.
Combine the eggs, maple syrup, salt, coconut oil and vanilla extract in a large mixing bowl.
Whisk well until thoroughly combined.
Add the coconut flour and baking powder, and beat well until no longer lumpy.
Leave to stand for 10 minutes.
Grease the waffle iron with non-fat cooking spray, butter or oil.
Ladle the batter into the iron and close.
Cook for 2-3 minutes until golden.
Remove from the iron and keep warm to one side.
Cook the remaining batter in the same fashion.
Serve the coconut flour waffles, stacked, with blueberries, raspberries and a dusting of icing sugar over the top.
Windmill products used in this recipe