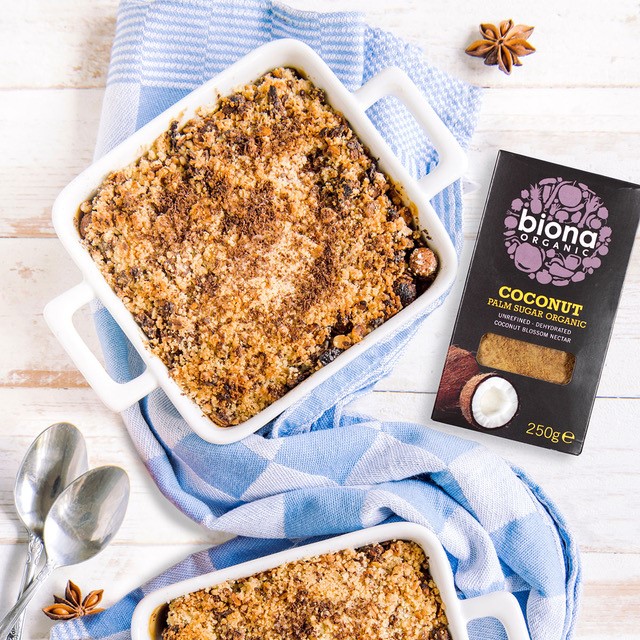 Ingredients:
For the Fruit Filling:
4.5 cups (total) raspberries and rhubarb mixed (if using frozen, place in colander and briefly rinse under cold water)
2-3 Tbsp Biona Organic Coconut Sugar
1 Star Anise (optional)
For the Crumble Crisp:
1 cup rolled oats
1/2 cup ground almonds
1/2 cup pecans, chopped
1/4 cup Biona Organic Coconut Sugar
Pinch of sea salt
4 Tbsp Biona Organic Sunflower Spread
Method:
Preheat oven to 350 degrees F and butter an 8x8 (or similar size) baking dish.
Add fruit directly to the dish and toss with coconut sugar (1-3 Tbsp depending on preference)
Add crumble crisp ingredients to a mixing bowl and, using your hands or a pastry cutter, mix until all of the butter is evenly distributed. Add to the top of the fruit in an even layer.
Bake for 45-55 minutes or until the fruit is bubbling and the top is crisp and golden brown.
Let it cool for 10 minutes and serve with dairy-free ice cream or coconut whippped cream.
Leftovers will keep in the fridge for several days, though best when fresh.
Windmill products used in this recipe