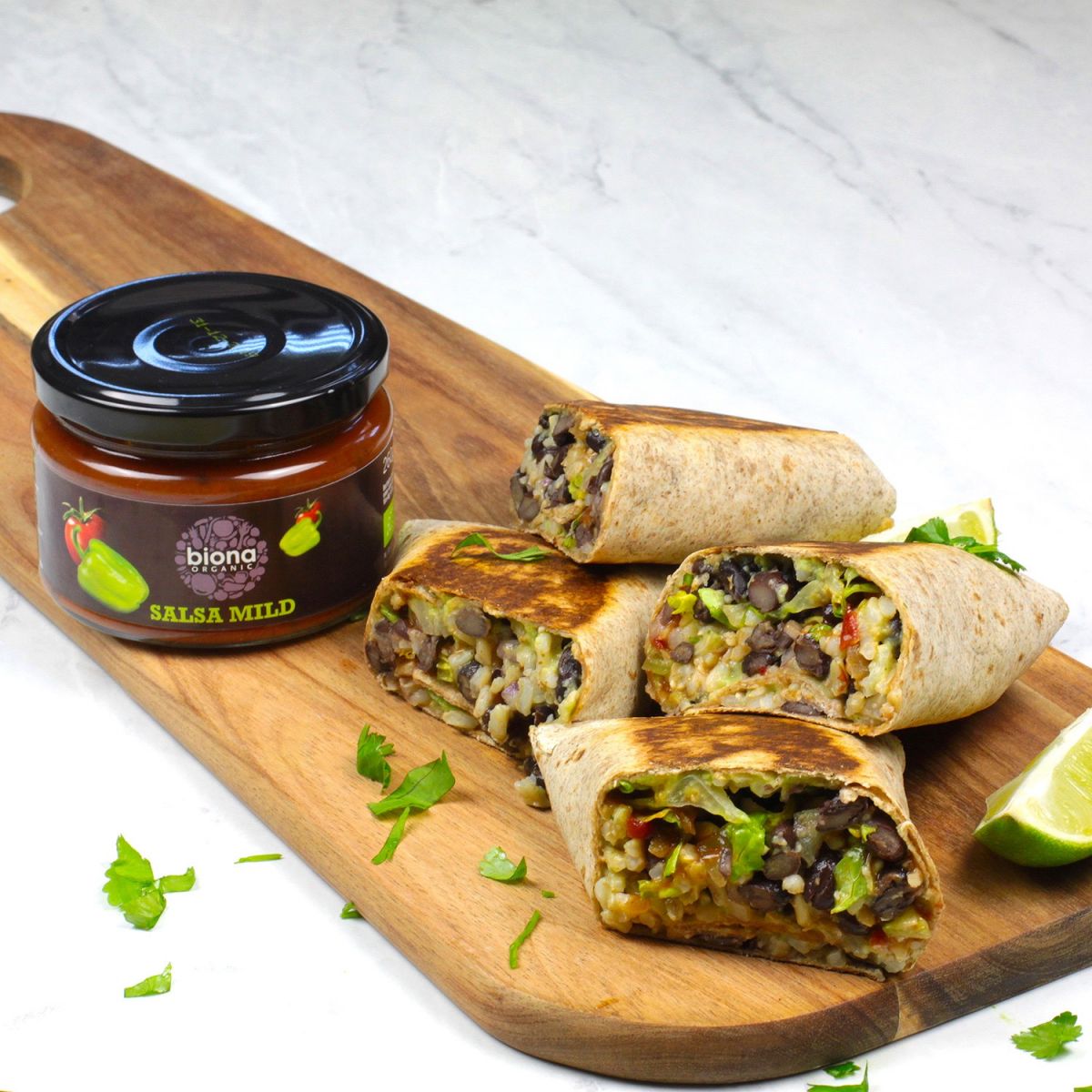 Guacamole and Black Bean Burritos
Ingredients:
Guacamole:
2 ripe avocados
1/4 cup minced red onion
1/4 cup chopped coriander
1 clove garlic, minced
1/4 teaspoon salt
1 lime
Salsa:
- Biona Organic Salsa Dip, Mild or Hot

Burrito:
2 large whole wheat flour tortillas
1/2 cup cooked Biona Organic Long Grain Brown Rice
1/2 cup cooked Biona Organic Canned Black Beans, drained and rinsed
1/3 cup shredded Biona Organic Montello Cheese
1/2 cup shredded lettuce
3 tablespoons minced red onion
Method:
To make the guacamole, cut avocade in half around the pit and spoon out the avocado into a bowl.
Add in the onion, coriander, garlic and salt. Cut the lime in half and squeeze 1 to 2 tablespoons of lime juice over the guacamole and stir. Taste and adjust salt and lime juice as needed.
Spread about 1/4 to 1/3 cup guacamole in the centre of the tortilla. Layer half a cup of cooked long grain brown rice, beans, cheese, lettuce and onion on top of the guacamole.
Add salsa as desired. Roll into a burrito and tuck in the ends.
Heat a grill pan or panini press over a low heat and place the burritos seam side down. Place a weight on top and let it cook until tortilla is brown and crisp, 3 to 5 minutes on each side. Serve with remaining guacamole or salsa.
Windmill products used in this recipe