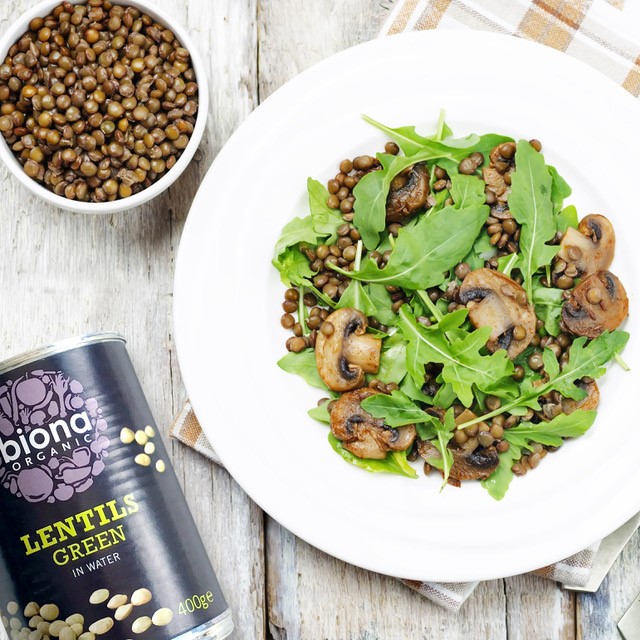 Ingredients:
1 cup Biona Organic Green lentils
3 cups water
3 lightly packed cups of washed rocket leaves
1/2 medium white onion, chopped
1/3 cup mushrooms
1/3 cup chopped fresh basil or flat leaf parsley
Garnish: Biona Organic Feta Cheese, crumbled (optional topping)
1/3 cup Biona sun-dried tomatoes (optional topping)
Greek Dressing:
1/4 cup olive oil
1 tbsp Biona Organic Tahini
2 garlic cloves, pressed or minced
1/2 teaspoon dried oregano
Scant 1/2 teaspoon fine-grain sea salt (if using regular table salt, start with 1/4 teaspoon and add more to taste)
Freshly ground black pepper, to taste
Method:
Drain lentils, rinse and set to one side to add later.
Reduce heat to maintain a gentle simmer and cook, stirring occasionally, until the lentils are tender, about 25 to 35 minutes. Then, drain the lentils and return them to the pot to cool for about 5 minutes.
Meanwhile, in a medium serving bowl, combine the spinach, red onion, sun-dried tomatoes, olive and basil. Set aside.
To prepare the dressing, combine all of the ingredients and whisk until thoroughly blended.
Add lentils to the serving bowl. Pour all of the dressing over the salad and toss until blended. Taste, and add more salt and pepper if necessary. Serve in individual bowls with a sprinkle of feta cheese on top, if desired.
Windmill products used in this recipe