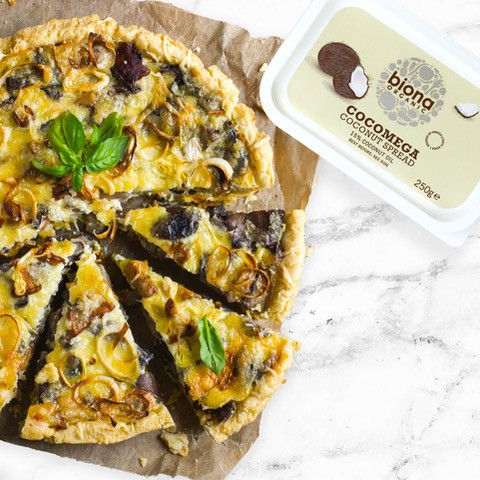 Ingredients:
Crust:
1 1/2 cups whole meal flour
1/2 cup melted Biona Organic Cocomega Spread
1/2 tsp sea salt
2 tbsp almond milk or milk of your choice
Filling:
1 cup mushrooms
1/2 cup finely chopped red onion
1/2 cup crumbled Biona Organic Feta Cheese (optional)
1 leek, sliced
Quiche batter:
2 organic eggs
1 cup almond, oat or milk of your choice
Pinch of thyme
Method:
Preheat oven to 350 degrees fahrenheit.
To make crust: In a 9-inch pie pan, combine all crust ingredients and mix with a fork.
Use your hands to finish the mixing and then form a ball in the pan. Press it into the pan and bring it up on the sides, and then pinch the top (with your finger or a fork).
To make the filling: Stir together mushrooms and onion. Sprinkle feta cheese over crust, if desired. Top with mushrooms and onions. Arrange leeks over quiche.
To make quiche batter: Whisk together all ingredients in medium bowl. Season with salt and pepper, if desired. Pour quiche batter over filling in crust. Set quiche on baking sheet, and bake 45 to 50 minutes, or until top is brown and centre is set.
Windmill products used in this recipe