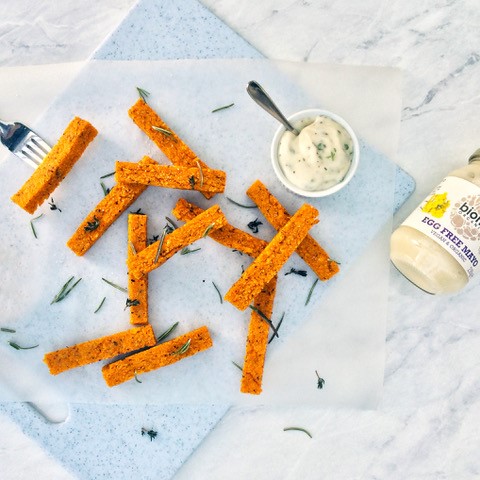 Ingredients:
Polenta Chips:
1 1/2 cups Biona Organic Polenta
3 cups organic vegetable stock
2 tablespoons Biona Organic Extra Virgin Olive Oil
1/2 teaspoon paprika
1 teaspoon dried parsley
1 teaspoon dried mixed herbs
1 teaspoon garlic powder
1/2 teaspoon onion powder
1/2 teaspoon Biona Organic Coconut Sugar
Salt/Pepper to taste
Garlic Parsley Aioli:
Biona Organic Egg Free Mayo
1 tbsp chopped fresh parsley
1/2 tsp salt
2 garlic cloves
Method:
In a large pot, bring vegetable stock to a boil with olive oil, paprika, dried parsley, dried mixed herbs, garlic powder, onion powder and sugar.
Once it comes to a boil, gradually stream polenta in whilst whisking. Continue whisking until you end up with a very thick mass of polenta. At this point of time you can taste and season to your liking.
Pour cooked polenta into a 8x8 inch, plastic wrap lined baking pan, or any other dish you have around the kitchen. Smoothen surface and leave to set for an hour or until polenta is cold and firmed up.
Preheat oven to 190 degrees celsius. Line a baking sheet with nonstick baking paper and brush lightly with a very very thin layer of oil.
Turn your polenta "block" out onto a cutting board and cut into fry-like shapes. Place polenta on a prepared baking tray in a single layer without pieces touching each other. Bake for 30 minutes and then flip over and bake for another 10 minutes or so.
Remove from oven, sprinkle with sea salt if you desire.
For Aioli, blend ingredients together in a blender to taste and serve!
Windmill products used in this recipe