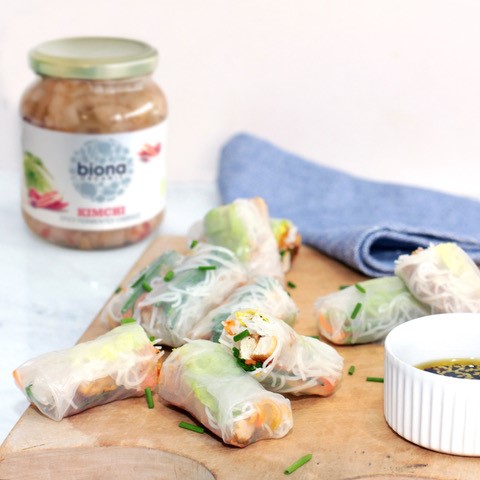 Ingredients:
Noodles:
2 ounces dried rice sticks or vermicelli
1 teaspoon sesame oil
Pinch of red pepper flakes
Tofu:
8 ounces of Biona Organic Tofu
1 tablespoon sesame oil
Vegetables:
1 cup Biona Organic Kimchi
1 medium carrot
4 lettuce leaves
8-12 Korean perilla leaves (optional)
1 bunch chives
Sauce:
6 tablespoons soy sauce
4 tablespoons sesame oil
4 teaspoons Korean chilli powder or any chilli powder of your choice
2 teaspoons toasted sesame seeds
Wraps:
8 (8-inch) or 12 (6-inch) round rice paper wrappers
Method:
Noodles:
Bring a large pot of water to a boil and add rice sticks. Stir and cook until noodles are white and tender but still firm, about 3-5 minutes. Drain in a colander and rinse under cold water.
Place noodles in a bowl and use scissors to cut them into fourths. Toss with the seasme oil and red pepper flakes.
Tofu:
Cut tofu into strips and press between clean kitchen towels or paper towels to get rid of excess water.
Heat sesame oil in a skillet and fry tofu, turning once, until golden. Drain excess oil.
Vegetables:
Julienne the carrots.
Using your hands, squeeze the liquid out of the kimchi into a small bowl. Add carrots and toss.
Remove the ribs from the lettuce and tear the leaves into 8-12 pieces.
Cut the chives in half.
For the sauce:
In a small bowl, whisk together ingredients for sauce. Set aside.
To assemble:
​Fill a cake or pie pan with hot water. Submerge one wrapper for 30 seconds, then remove, letting excess water drip off. Lay it on your work surface.
Place a piece of lettuce (and a perilla leaf, is using) just below the centre of the wrapper. Top with 1/8 or 1/12 (depending on number and size of wrappers) of the kimchi, noodles, tofu and carrots, and a few sprigs of chives.
Fold the bottom edge of the wrapper over the filling, then fold in the sides. Roll up to the top edge to close.
Place each finished roll seam-side down on a large plate or tray and cover with a lightly dampened towel until ready to serve.
Windmill products used in this recipe