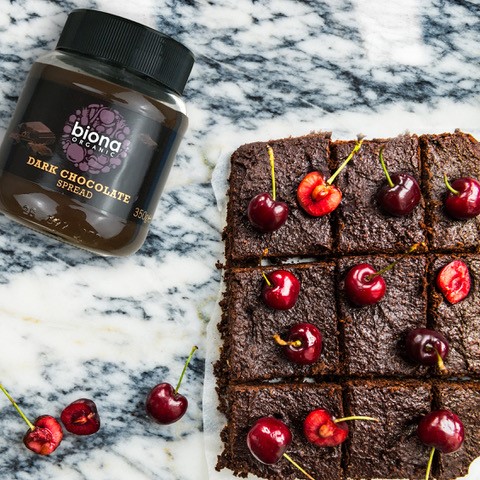 Ingredients:
1 (15-ounce) can black beans, rinsed and drained
2/3 cup Biona Organic Cocobella Chocolate Spread
1/3 cup Biona Organic Coconut Sugar
1 tbsp vanilla extract
1/4 tsp salt
1/2 cup cocoa powder
1 tsp baking powder
1/3 cup chocolate chips or chunks
Method:
Preheat oven to 165 degrees celcius. Move a rack to the lower 1/3 of your oven. Coat an 8x8 pan with nonstick spray, and line with a strip of parchment paper.
Combine the black beans, chocolate Cocobella spread, coconut sugar and vanilla in a blender. Blend until smooth.
Add the salt, cocoa powder and baking powder. Blend until combined. Add all of the chocolate chips except a small handful, and use a spoon to stir.
Pour the batter into the pan and use the back of a spoon to spread. Sprinkle on the remaining chocolate chips.
Bake for 25-30 minutes. Remove from oven and let cool completely. Cut into 12 bars.
Windmill products used in this recipe