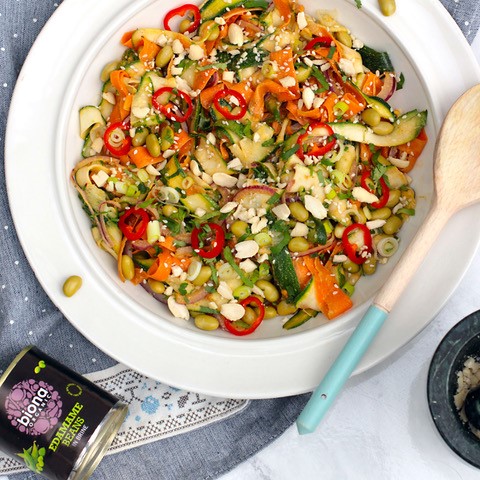 Ingredients:
3 zucchinis
1/2 red onion
1 medium red chilli
1-2 carrots
1 x can Biona Organic Edamame Beans
For the Peanut Lime Dressing:
1 medium red chilli, de-seeded and deveined
2 cloves garlic
2 tbsp Biona Organic Ginger Juice
2 tbsp rice wine vinegar
2 tbsp soy sauce
2 tbsp sesame oil
1 tbsp Biona Organic Lemon Juice
2 tbsp Biona Organic Peanut Butter
Toppings:
Sliced spring onion
Fresh chopped coriander
Sesame seeds
Crushed peanuts
Steps:
Spiralize the zucchini and carrot and place in a large bowl. If you don't have a spiralizer, you can just chop it finely.
Chop the red onion finely and mix with the carrot and zucchini.
Steam the edamame beans then deshell them and put to one side until you are ready to plate up the salad.
Blend all the ingredients for the dressing together for around 30 seconds until completely smooth and creamy. Pour as much dressing as you want over the zucchini, carrot and onion and mix so everything is thoroughly coated.
Serve the salad on your favourite plate and top with the edamame beans, spring onion, coriander, more chopped chilli, crushed peanuts and sesame seeds.
Serve immediately.
Windmill products used in this recipe