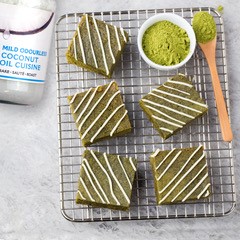 Ingredients:
For the brownies:
15 small dates soaked overnight in cold water or for 15 minutes in boiling water.
200g ground almonds
6 tbsp desiccated coconut
1/4 tsp bicarbonate of soda
4 tbsp Biona Organic Coconut Oil
1 tsp matcha powder
60ml Biona Organic Coconut Milk
For the white chocolate icing (optional):
30g cacao butter
3 tbsp Biona Organic Coconut Milk
2 tbsp Biona Organic Brown Rice Syrup
Method:
For the cake:
Preheat oven to 180C.
Drain the water from the dates, leaving a little water behind.
Use a food processor to blend the dates into a smooth puree (leaving a little water will make it much easier to process)
Add the pureed dates into a bowl along with the all the other ingredients and mix well.
Transfer to your greased baking dish of choice (line with greaseproof baking paper for ease)
Bake in oven for around 15 minutes.
Let cool before applying the icing if using.
For the icing:
Melt the cacao butter in a bowl over a saucepan of boiling water
Mix in the coconut milk and brown rice syrup
Drizzle icing over the brownie using a teaspoon.
Serve and keep in the fridge for best results.
Windmill products used in this recipe