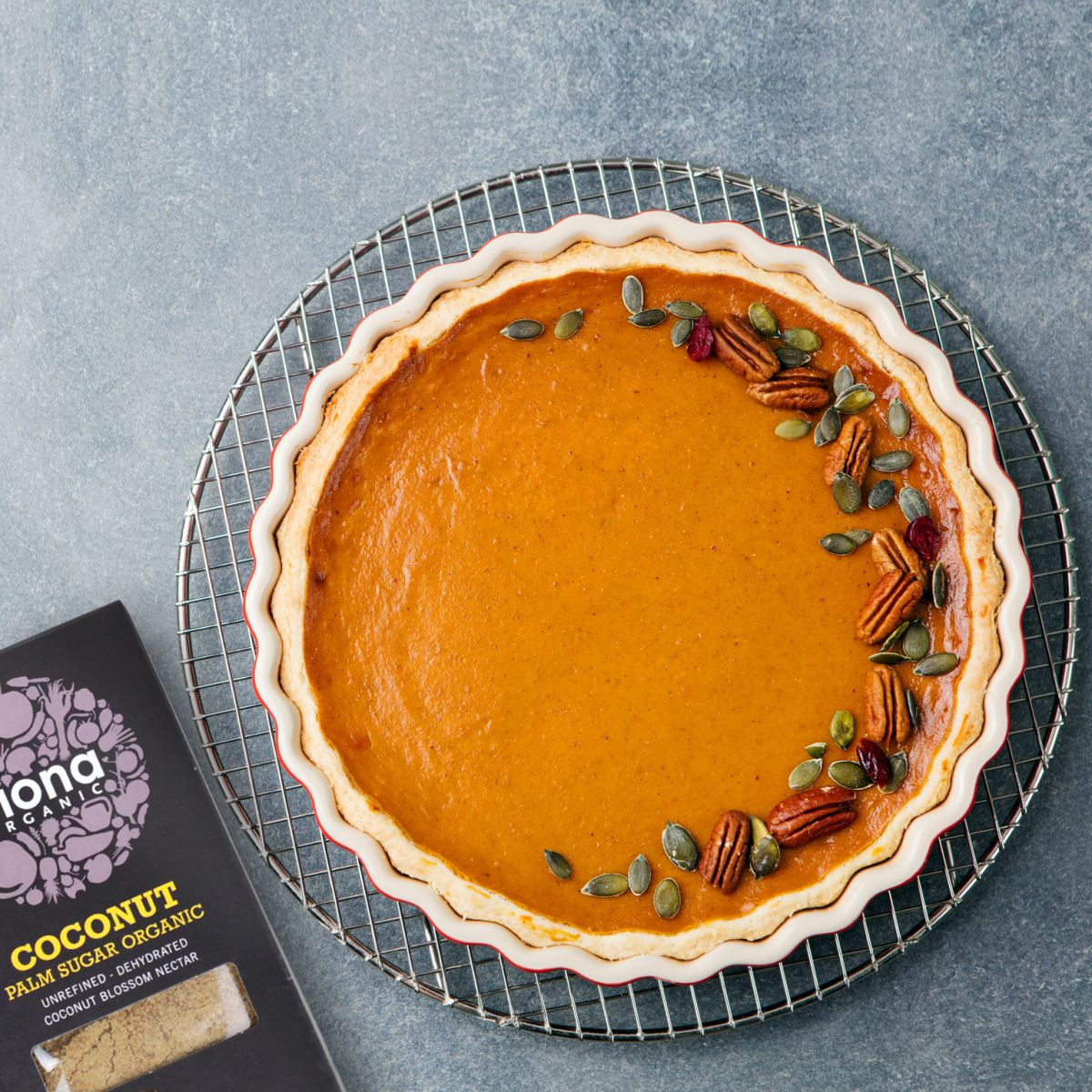 Ingredients:
Crust:
90g gluten free rolled oats
168g almond flour
1/4 tsp sea salt
2 tbsp Biona Organic Coconut Sugar
1 tbsp Biona Organic Maple & Agave Syrup
4-5 tbsp Biona Organic Coconut Oil, melted
Filling:
475g pumpkin puree
60ml Biona Organic Maple & Agave Syrup
48g Biona Organic Coconut Sugar
60g unsweetened coconut milk
18g cornflour
1/2 tsp ginger
1/2 tsp cinnamon
1/2 tsp nutmeg
1/4 tsp cloves
1/4 tsp sea salt
Method:
Preheat oven to 180C and line an 8x8 inch baking dish with greaseproof, baking or parchment paper.
Make crust by adding oats to a food processor and blending until you reach the consistency of oat flour.
Add almond flour, sea salt, coconut sugar and mix once more.
Add maple & agave syrup and melted coconut oil and mix/pulse to combine. Depending on device, you may need to use a spoon to scrape around the edges to ensure the crust is completely mixed. If it appears too dry, add more coconut oil.
Add crust to the lined baking dish and shake to evenly disperse, then lay down parchment paper on top and use a flat-bottomed object and press down to pack the crust into place.
Bake for 20 minutes, then set aside to cool.
In the meantime, add all filling ingredients to the food processor and blend until smooth, scraping down sides as needed.
Taste and adjust seasonings as needed, adding more maple & agave syrup or coconut sugar for sweetness. Set aside.
Once the crust is baked, pour the filling into the crust and tap on counter to remove air bubbles. Bake for 1 hour.
Remove from oven and let cool completely before loosely covering with foil and transferring to fridge to set for 4-6 hours, preferable overnight.
Slice and enjoy!
Windmill products used in this recipe