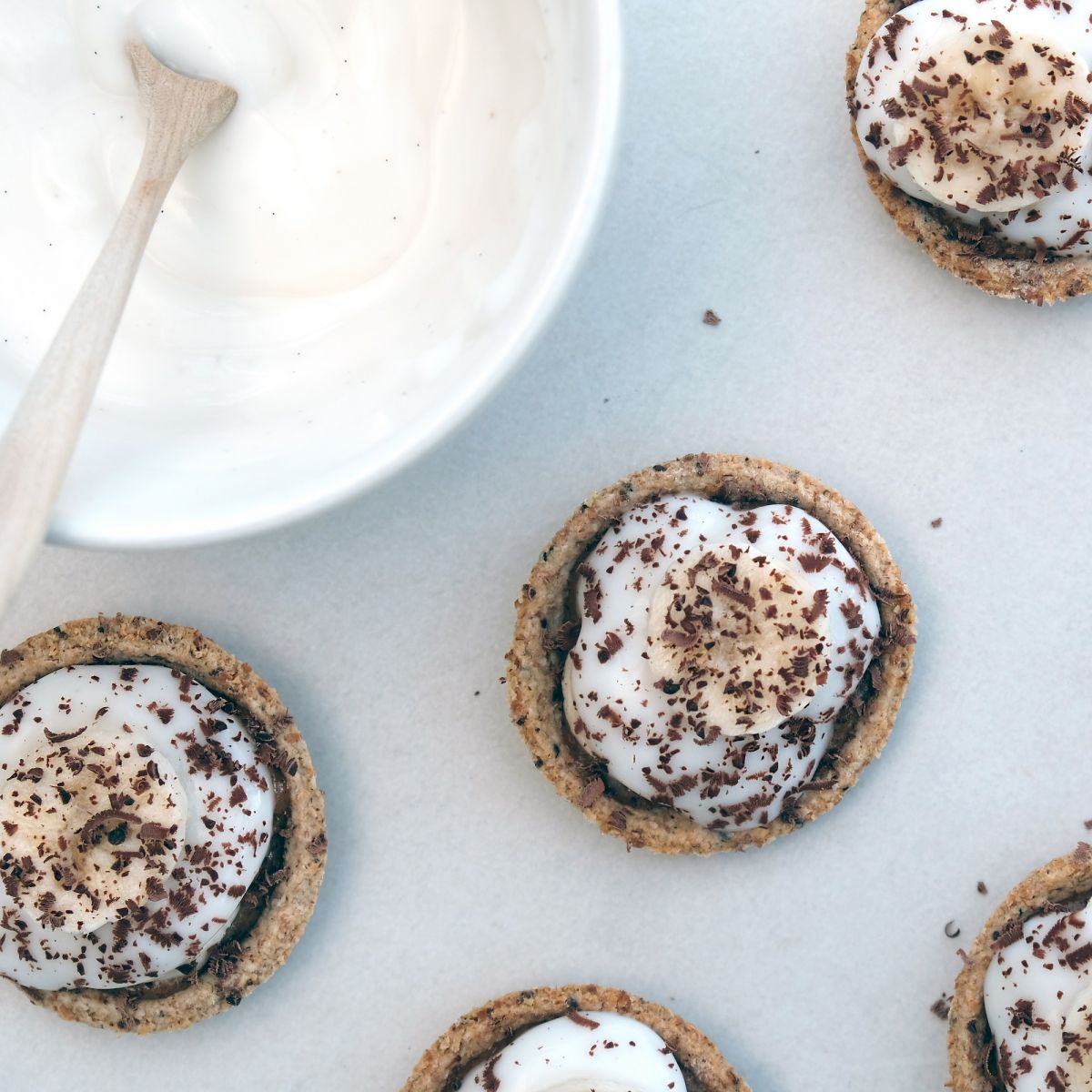 Banoffee Pie Bites
INGREDIENTS
For the pastry:
1 tsp chia seeds
125 ml water
20g almonds
20g buckwheat flour
80g oats
1 pinch of salt
2 tsp Biona Organic Coconut Oil
For the caramel:
8 medjool dates , soaked for 10 minutes in boiling water then drained
1 tbsp Biona Organic Almond Butter
1 tbsp boiling water
1 pinch of salt
1 tsp vanilla extract
For the topping: (see notes for vegan option)
4 tbsp Coconut Yoghurt
1/2 tsp vanilla extract
1 small banana , thinly sliced
To decorate: grated unsweetened dark chocolate.
METHOD
For the pastry:
-Preheat oven to 180 C (350 F).
-Mix the chia seeds in a small bowl with 2 tbsp of water and set aside.
-In a food processor, combine the almonds, buckwheat flour, oats and salt. Blend until the almonds and oats have broken down into flour.
-Add in the chia mixture and coconut oil then pulse in until combined.
-Drizzle in the remaining water a tablespoon at a time while pulsing the mixture until a dough forms.
-Roll the pastry out on a piece of baking paper until it's only a few mm thick. Cut into 9 cm diameter circles and push each one into the well of a tartlet pan.
-Bake for 12 minutes until dry. Leave to cool.
For the caramel:
-Pit the soaked dates and place into a blender with the almond butter, boiling water, salt and vanilla extract. Blend until completely smooth.
For the topping:
-Stir together the coconut yoghurt and vanilla in a small bowl.
To assemble:
-Smear some caramel into the base of each pastry cup. Top with a few slices of banana, then the coconut yoghurt mixture, then some grated dark chocolate and finish with a slice of banana to decorate.
Windmill products used in this recipe