Rice, Greens 'n' Beans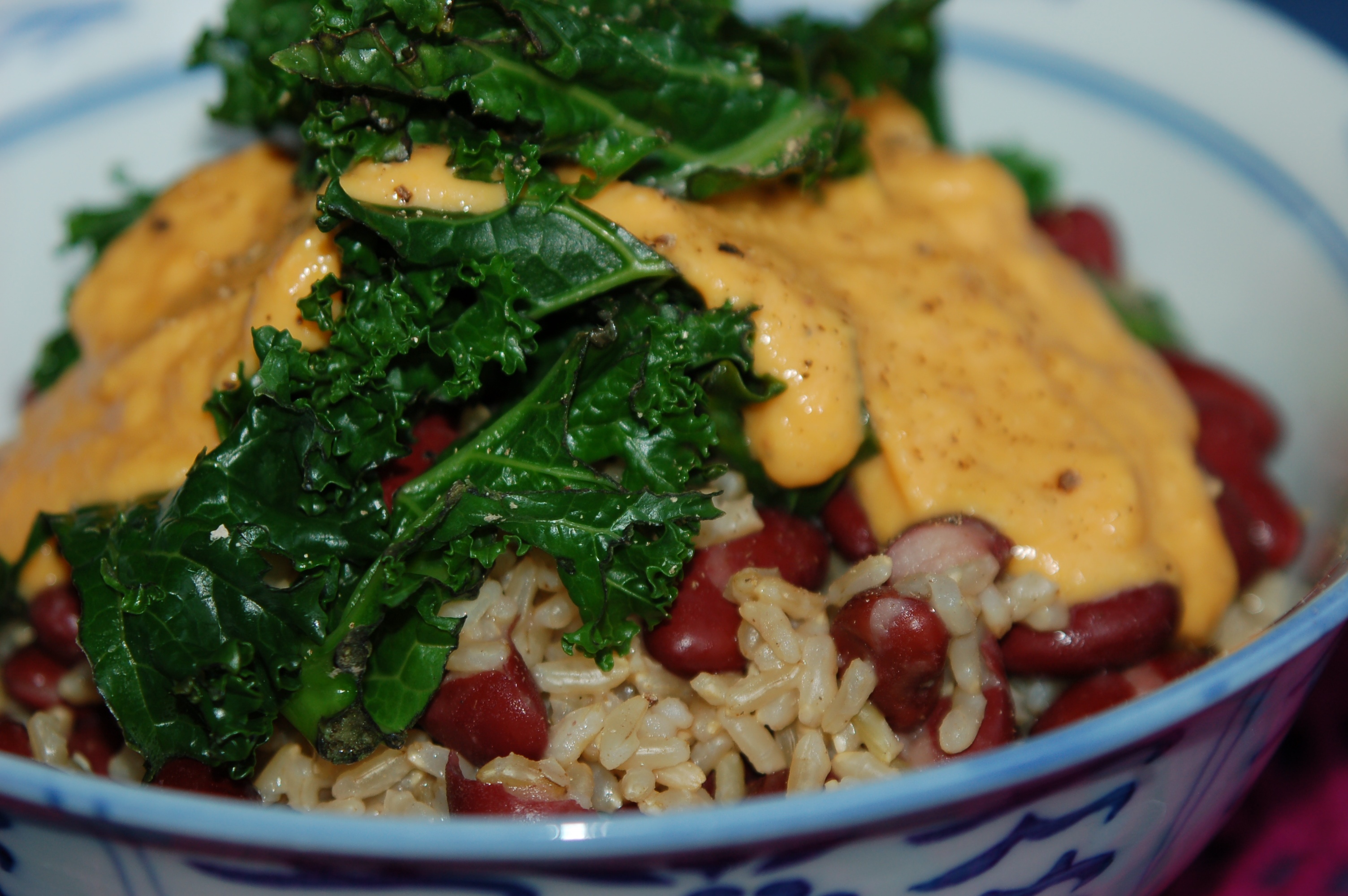 Serves 2-3 Preparation: 30 minutes
Ingredients
Rice
225g/ 8oz Biona Organic Short Grain Brown Rice
750ml/ 1pt 6fl oz water
1/2 a low-salt stock cube
1 tsp cinnamon
Beans
Oil spray
2 large cloves garlic, crushed
1 tsp cumin powder
large pinch chilli flakes
1/2 tsp salt
2 tins Biona Organic Kidney Beans or Biona Organic Pinto Beans, rinsed and drained.
Greens
Use curly kale, spring greens or dark green cabbage. Aim for 3 good handfuls of shredded greens per person. If cooking from scratch, cut the large veins out of the greens and discard. Shred quite finely then wash thoroughly. Place in a steamer and cook for 3-5 minutes. Don't let it go soggy.
Preparation
1. Put the rice on to cook - wash, drain and place in a pan with the water, half a stock cube and the cinnamon.
2. Make a sauce of your choice. Keep warm until the meal is ready to serve.
3. Prepare the bean ingredients. Heat the oil spray, saute the garlic then add cumin and chilli flakes. Add a teaspoon of water if it starts to stick. Add the beans and salt and mix in well. Turn off the heat and keep warm.
4. Now steam the greens - shred them fine so they cook quickly.
5. Serve everything hot with the sauce on top or on the side.
Recipe courtesy of The Big-D: defeating diabetes with the D-Diet. Published by the Vegetarian & Vegan Foundation http://www.vegetarian.org.uk/campaigns/diabetes/guide/index.html
www.vegetarianrecipelclub.org.uk
Windmill products used in this recipe