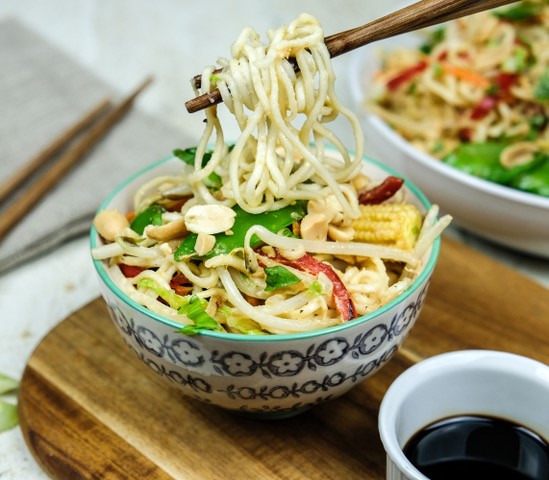 Vegan Satay Stirfry
INGREDIENTS
For the sauce
· 150ml Biona Organic Coconut Cream
· 3 tablespoons sweet chilli sauce
· 2 tablespoons soy sauce
· 3 tablespoons Biona Organic Crunchy Peanut Butter
· 1 tablespoon Sesame Oil
Suggested vegetables
· 1 large carrot
· 2 red peppers
· 2 spring onions
· 4-5 leaves of Chinese cabbage
· 5-6 mini baby corn
· 50g mange tout
· 50g bean sprouts
For the stir fry
· 300g Biona Organic Asia Noodles
· 7-8 cm piece of fresh ginger
· 2 cloves garlic
· 2 red chilli
· Handful of basil leaves
· Roasted peanuts
· 3 tablespoons Biona Organic Coconut Oil
METHOD
Thinly chop the carrot, peppers and spring onions and shred the Chinese cabbage.
Add noodles to a pan of boiling water for the required cooking time.
Meanwhile, mix the sauce ingredients in a bowl to make a smooth satay sauce.
Heat the coconut oil in a wok. Grate the ginger, press the garlic, and finely chop the chillies and add to the pan. Fry for a minute before adding the harder pieces of stir fry vegetables, such as the carrots and peppers. After a couple of minutes add the noodles and the rest of the vegetables and continue to fry for another couple of minutes.
Move the stir fry to the side of the wok to create a space in the centre. Pour the sauce into this space and bring to the boil before mixing with the stir fry to coat.
Garnish with the basil leaves and roasted peanuts.
Windmill products used in this recipe