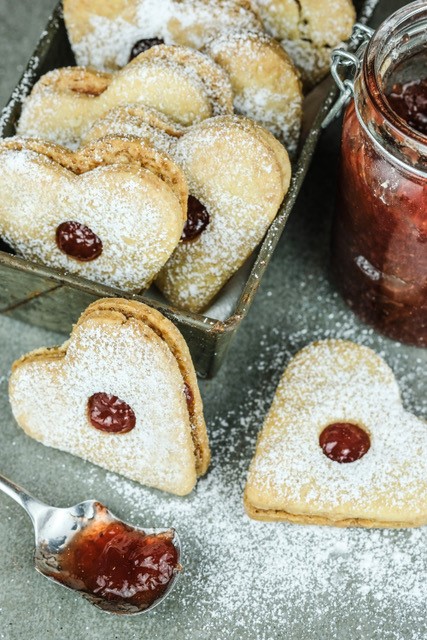 VALENTINES VEGAN JAMMY DODGERS
INGREDIENTS:
120 g Biona Organic Sunflower Spread
55 g Biona Organic Coconut Sugar
180 g plain flour
Biona Organic Strawberry Spread
INSTRUCTIONS:
1. In a large bowl, cream together the butter and sugar until smooth.
2. Add the flour in a small amount at a time and continue to mix the dough until completely smooth and it balls together. If it's still crumbly, keep mixing.
3. Briefly knead the dough and roll into a smooth ball. Wrap in Clingfilm and chill in the fridge for 20-30 minutes.
4. Meanwhile, preheat the oven to 180C / 370F and line a baking sheet with greaseproof paper.
5. Once the dough has chilled, roll to about 1/2 cm thickness and cut out your cookie heart shapes. Use a smaller cutter to make a cut-out centre on half of the cookies.
6. Transfer to the baking sheet and bake for 10-15 minutes, turning occasionally to ensure even baking. Once they begin to turn slightly golden brown at the edges, they are done.
7. Leave to cool at room temperature.
8. Once cooled, add approximately half a tsp of the Strawberry Spread to each full halves of the cookies and place the cut-out centre cookies on top to create a jam sandwich.
9. Dust with icing sugar (optional)
Windmill products used in this recipe