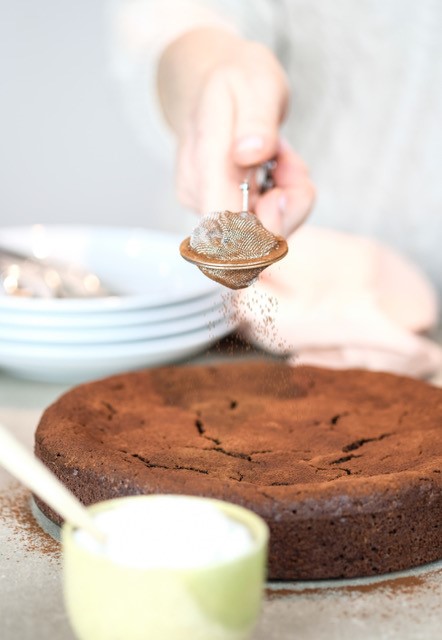 CHOCOLATE AND CHICKPEA TORTE WITH COCONUT CREAM
Serves 8-10
INGREDIENTS:
200g plain, dark chocolate (70% cocoa solids), broken into squares
150g icing sugar, sifted
150g Biona Organic Cocomega Spread
400g tin Biona Organic Black Chickpeas, drained and rinsed
3 medium free range eggs, separated
Cocoa powder, sifted, for dusting
For the Coconut Cream
Biona Organic Coconut Milk (place in the fridge the night before use)
INSTRUCTIONS
1 Melt the chocolate in a heatproof bowl over a pan of gently simmering water. Remove from the heat, take the bowl carefully out of the water and stir until smooth. Leave to cool for 20 minutes. If the chocolate is too hot, it will melt the cocomega when added to the cake batter.
2 Preheat the oven to 190C/375F/gas mark 5. Grease a 23cm spring form cake tin with a little cocomega and line the base with baking paper. Put the icing sugar, cocomega and chickpeas in a food processor, then blend together until creamy and smooth. You may need to switch it off, remove the lid and push the mix down and blitz again a couple of times before it reaches the right consistency. Add the egg yolks and blend well.
3 Next, add the cooled, melted chocolate in a steady stream with the motor running. Whisk the egg whites in a large bowl until stiff but not dry. Gently, but thoroughly, fold in to the chocolate and chickpea mixture. Spoon the mix into the prepared cake tin and spread to the sides. Bake in the centre of the oven for 35 minutes or until the cake has risen, is firm to the touch and just beginning to shrink away from the sides of the tin. Remove from the oven and leave to cool for 10-15 minutes in the tin.
4 To make the coconut cream, Remove the chilled can of coconut milk from the fridge, separate the white solid part into a bowl (use the water to make a curry or smoothie!), then whisk with the cream until soft peaks form. Serve with the warm torte cut into slender wedges and lightly dusted with cocoa powder.
Windmill products used in this recipe