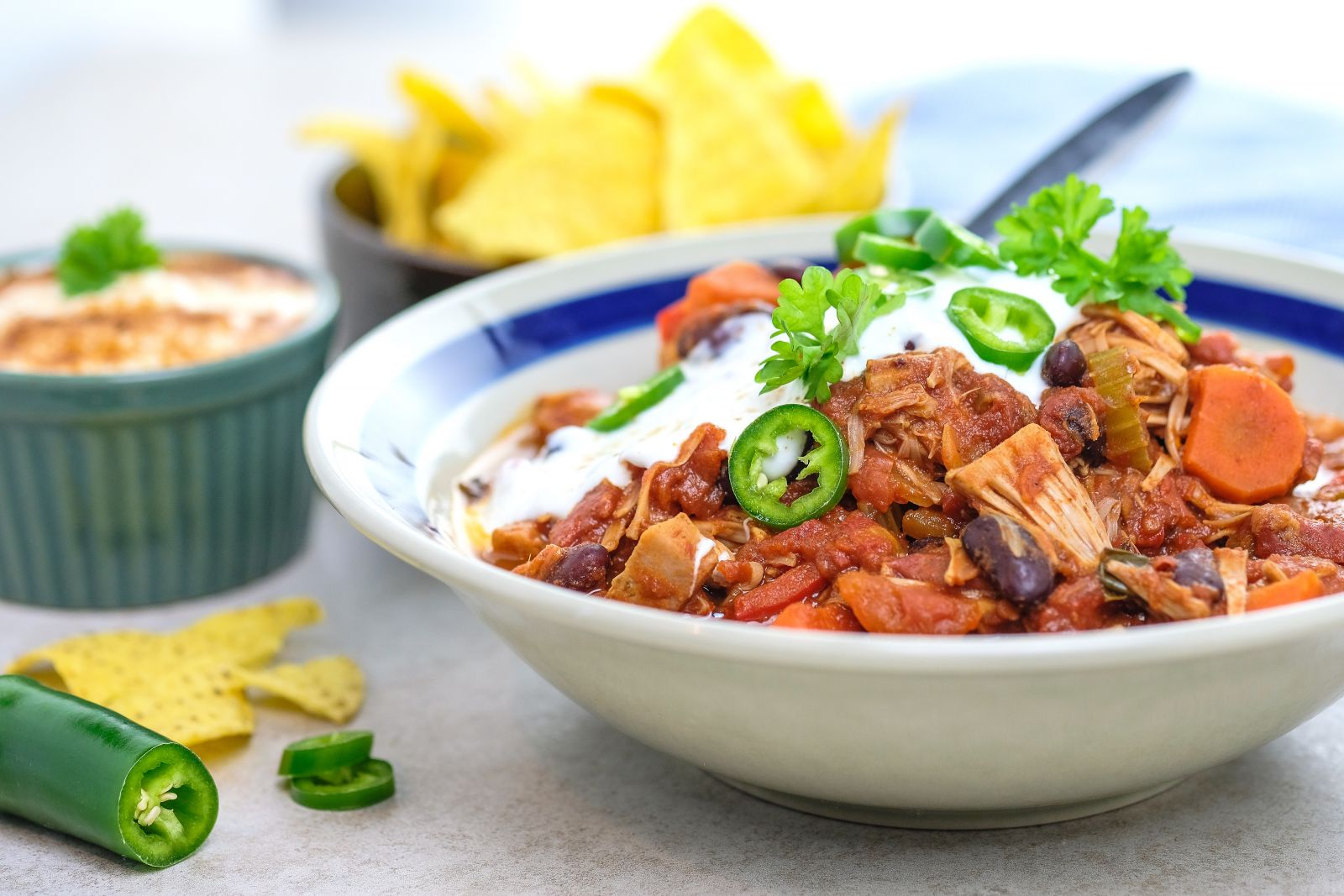 Pulled Jackfruit Chilli
Ingredients:
1 tablespoon Biona Organic olive oil
1 small sweet onion, chopped
3 garlic cloves, minced
170g chopped carrots
170g chopped celery
170g chopped red bell pepper
1 green chili, finely chopped
400g can of Biona Organic jackfruit, rinsed and drained
2 x 400g can of Biona Organic chopped tomatoes
400g can of Biona Organic kidney rinsed and drained
2 tablespoons liquid aminos
1 tablespoon sriracha sauce
1 tablespoon Biona Organic tomato puree
1 tablespoon Biona Organic coconut sugar
2 teaspoons chilli powder
2 teaspoons ground cumin
2 teaspoons smoked paprika
1/4 to 1 teaspoon cayenne pepper (optional)
1 teaspoon dried thyme
2 tablespoon nutritional yeast
1 Tablespoon of Biona Organic Lime Juice
Directions:
Place the jackfruit in a colander in the sink. Use a fork or your fingers to tear the jackfruit into shreds. Set aside.
Heat the olive oil in a large pot over medium heat. Add the onion and garlic and sauté until onion is translucent.
Add the carrot, celery, and bell pepper and sauté for a couple minutes more. Then add the green chiles and the jackfruit and cook for a few more minutes to let the jackfruit release its water.
Add in the fire-roasted tomatoes, tomato sauce, beans, liquid aminos, sriracha sauce, tomato paste, coconut sugar, spices, and herbs. Bring to a boil and then reduce to a simmer. Let simmer for 20 to 30 minutes.
After the chili has simmered, add in the nutritional yeast, lime juice, salt and pepper. Serve on its own or with Biona Organic Brown Rice.
Windmill products used in this recipe