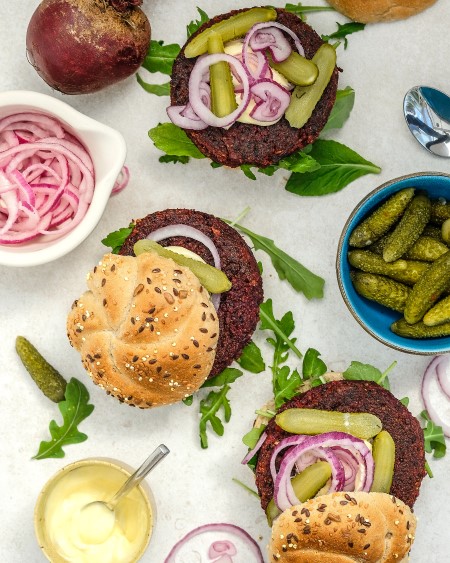 Ingredients:
50g Chopped mushrooms
60g Bell peppers
200g Biona Organic Jarred Black Beans (drained)
185g Cooked quinoa
1/2 Onion, diced
4 cloves Garlic, minced
22g Oat flour
85g Biona Organic Jarred Beetroot (sliced)
1/2 tsp Paprika
Salt & Pepper to taste
2 tbsp Biona Organic Extra Virgin Olive Oil
1 tbsp Biona Organic Maple Agave Syrup
1 tbsp Biona Organic Shoyu Soya Sauce (or Biona Organic Tamari Sauce for GF)
Method:
In a food processor, add the beetroot. Pulse until cut up, about 30 seconds. Add the rest of the ingredients, including seasonings. Pulse until combined, not too much to make it mushy but until incorporated.
On a baking tray lined with greaseproof paper, form the mixture into burgers (ensure to spray your hands with oil first - they are sticky!). They can make 3 large burgers or 6 smaller burgers. Refrigerate for about 2 hours, or overnight if possible.
When burgers are chilled, in a pan over medium heat, heat about 2 tablespoons olive oil. Add the burgers to it and cook about 4-6 minutes on each side, until crispy and cooked through.
Serve as you desire, in a burger form or in a lettuce wrap. We added burger buns, onions, tomato and lettuce and mustard. Enjoy!
Windmill products used in this recipe