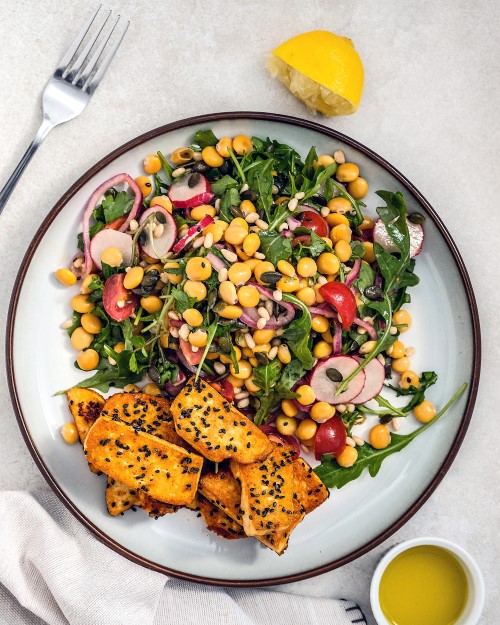 (Serves 4-6)
Ingredients:
Coconut Oil Tofu
500g Biona Organic Tofu Natural
100g Biona Organic Raw Virgin Coconut Oil (+ 1 tsp for cooking)
120ml (about 2-3 lemons) Lemon juice
60ml Water
1 tsp Paprika
2 tsp Salt
1/4 tsp Pepper
1 tbsp Biona Organic Agave Light Syrup
1 tbsp Finely chopped white onion
Lupin Salad
500g Biona Organic Jarred Lupin beans (drained)
120g Rocket Leaves
150g Chopped cherry tomatoes
75g (or 1 small onion) finely chopped red onion
60ml Biona Organic Extra Virgin Olive Oil
35g Roasted pine nuts
2 tbsp Biona Organic Balsamic Vinegar of Modena
Juice of 2 lemons
3 cloves garlic, minced
Garnish options: Biona Organic Hemp Seeds, chilli flakes, chopped parsley
Method:
Mix all ingredients for the Coconut Oil marinade in a jar, give it a good shake and set aside.
Next, prepare the salad:
In a large bowl, add all ingredients together. Use a large spoon or fork utensil to combine the ingredients, the lemon juice, olive oil and sea salt will start to wilt the rocket, which is what you want.
Keep this in fridge in an airtight container until ready to serve.
Press the tofu for at least 5 minutes in between paper towels or tea towels.
Cut the tofu into bite-sized cubes and set to one side.
Heat 1tsp coconut oil in a pan on high. Once the coconut oil has melted and the pan is hot, throw in the tofu.
Toss the tofu every few minutes so each side is nicely browned (about 6-10 minutes).
Turn down the heat and pour over the marinade, leave to simmer for about 3-5 minutes.
Assemble the tofu and salad on the plate, with a garnish of your choice. Serve and enjoy!
Windmill products used in this recipe