Raw Coconut & Cacao Cheesecake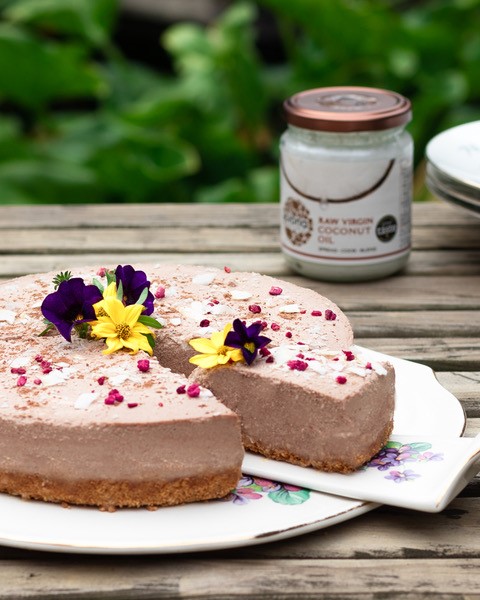 Ingredients:
Filling:
- 1 1/2 Cup Cashews (Soaked in water overnight)
- 1 can Biona Coconut Milk Light
- 1 tbsp Biona Coconut Oil
- 4 tbsp Raw Cacao Powder
- 1/2 cup Cashew Milk
- 2 tbsp Raw Honey
Crust:
- 1 Cup Coconut Flakes
- 3 tbsp Raw Cacao Powder
- 1/2 Cup of Almonds
- 3 dates
Method:
Filling:
1. Pre-soak the cashew nuts overnight in water so they are soft and easy to crumble.
2. Once soaked, rinse under water and place into a food processor.
3. Add in the coconut milk, honey, coconut oil, raw cacao powder, cashew milk and blend until it forms a smooth consistency.
4. Pour on top of the crust and leave in the fridge for 2+ hours to set.
5. Sprinkle with coconut flakes, edible flowers and chopped raspberries.
Crust:
1. Place the almonds, dates, coconut flakes and raw cacao powder into a food processor and blend until it forms a sticky consistency.
2. Place the mixture into a baking tin and flatten with the back of a spoon.
3. Pop into the fridge until you are ready to add the filling.
Recipe courtesy of @lizzyrosenutrition
Windmill products used in this recipe