Organic Champions Breakfast – Game Changing Vegan Banana Walnut Pancakes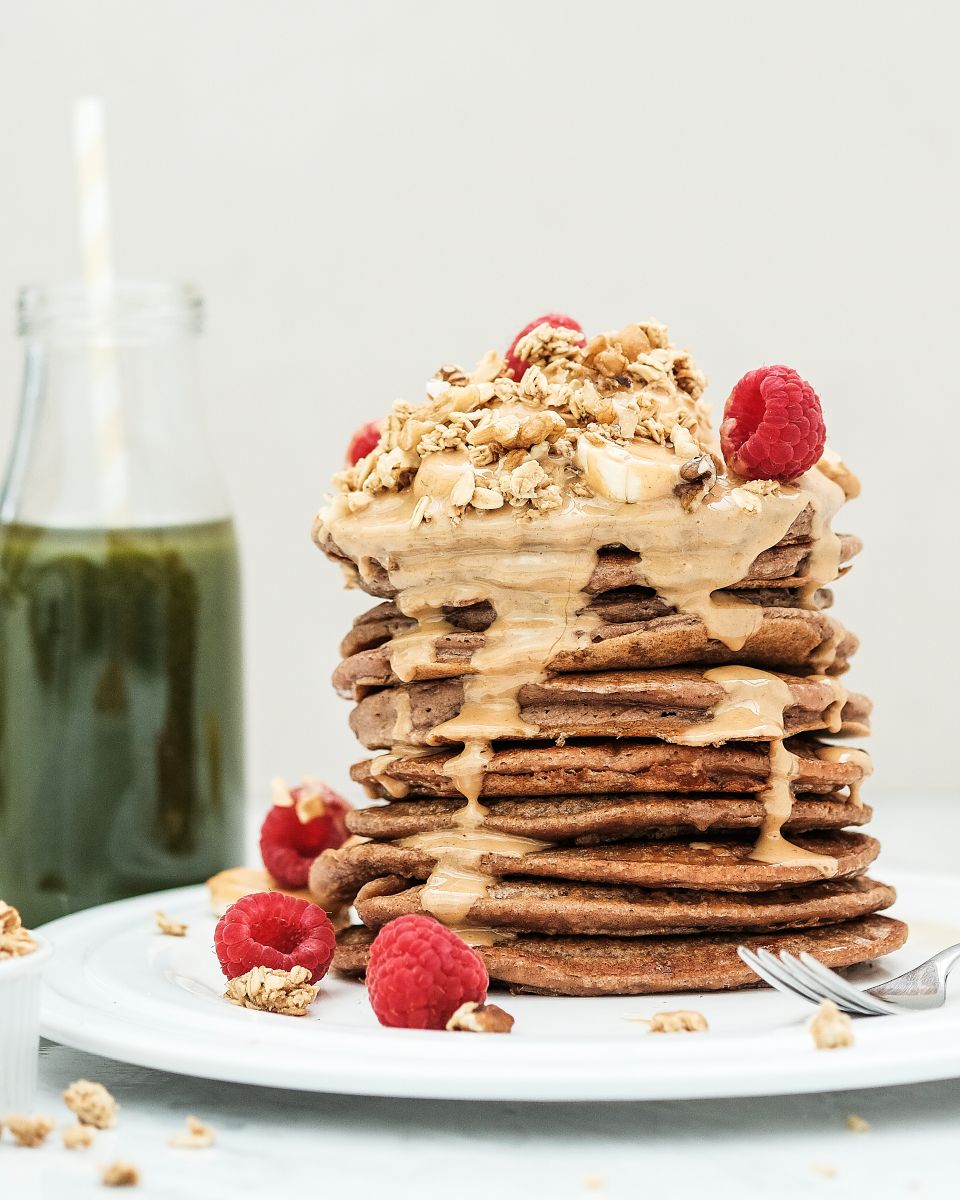 Ingredients:
400g oat flour
300g all-purpose flour
100g almond flour
1 1/2 Tbsp baking powder
1 tsp sea salt
1 1/2 tsp ground cinnamon
1/4 tsp ground ginger (optional)
1/4 tsp ground nutmeg (optional)
2 medium ripe bananas (the riper the better)
3 Tbsp Biona Organic melted coconut oil* (plus more for cooking)
1 1/2 Tbsp vanilla extract
2 1/2 Tbsp Biona Organic maple syrup
550ml Plenish Hazelnut milk
150g chopped raw walnuts
50g rolled oats
To serve (optional):
Nut butter
Granola
Flaked Coconut
Sliced bananas or fruit of choice
Maple syrup
Method:
1. To a large bowl, add oat flour, flour, almond flour, baking powder, salt, cinnamon, ginger (optional), and nutmeg (optional). Whisk to combine and set aside.
2. To a separate mixing bowl, add bananas and mash. Then add melted coconut oil, vanilla extract, maple syrup, and hazelnut milk and whisk to combine.
3. Add the wet ingredients to the dry ingredients and gently fold everything together. Then add the chopped walnuts and oats and gently fold/mix until the batter is well combined. It should be thick but pourable/scoopable.
4. Heat a large non-stick frying pan or griddle pan over a medium heat. Carefully rub pan with coconut oil or vegan butter.
5. Once hot, spoon 1/4 - 1/3 cup of the batter onto pan. Cook until surface of pancakes have some bubbles and the edges appear dry (~2 minutes). Carefully flip pancakes and cook until browned on the underside (~2 minutes more).
6. Transfer cooked pancakes to a baking sheet or plate and keep warm in a 200-degree F (94 C) oven. Continue cooking until all batter is used up - about 14-16 pancakes.
Windmill products used in this recipe