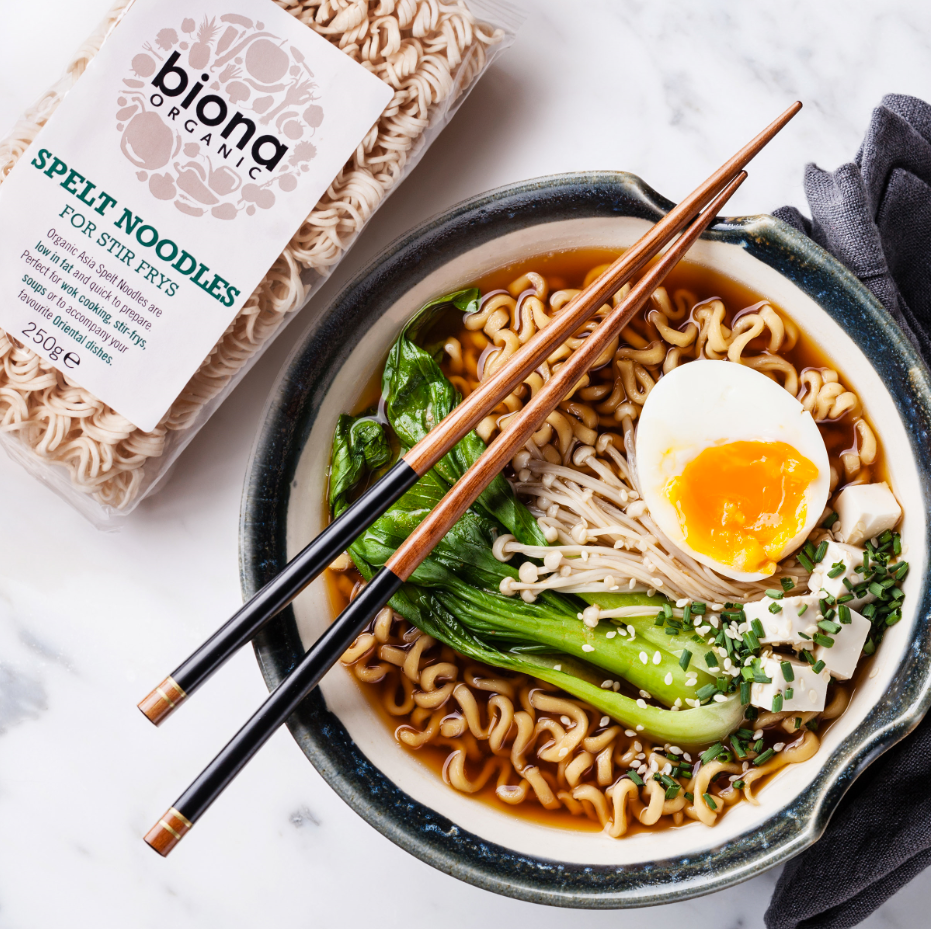 Ramen: Serves 4
Ingredients:
4 eggs
4 cloves garlic
1 tbsp ginger
1 tbsp sesame oil
1 tbsp olive oil
2 pints vegetable stock
3 tbsp reduced salt soy sauce
1 tbsp mirin
250g Asian greens
3 chives
500g Biona Organic Spelt Noodles
360g Biona Organic Firm Tofu
Method:
1. Fill a medium pot of water and bring to a boil, then reduce to a simmer. Gently lower the eggs into the water with a spoon and simmer for 7 minutes.
2. When the eggs are done, place them in a bowl of ice cold water and let them cool completely - ready for them to be peeled.
3. Keep the water in the pot and use it to cook the noodles later.
4. Thinly slice 4 cloves garlic. Peel and mince the ginger.
5. Heat the sesame oil and olive oil on a medium high heat. Add the tofu, garlic and ginger and saute for 1 minute.
6. Add the vegetable stock and simmer. Add the soy sauce and mirin.
7. Slice the chives and asian greens and add them to the stock.
8. Reheat the water used for the eggs and boil the spelt noodles until just tender, around 4 minutes.
9. Place the noodles in a bowl and top with the broth and vegetables. Garnish with chives and top with an egg.
Windmill products used in this recipe