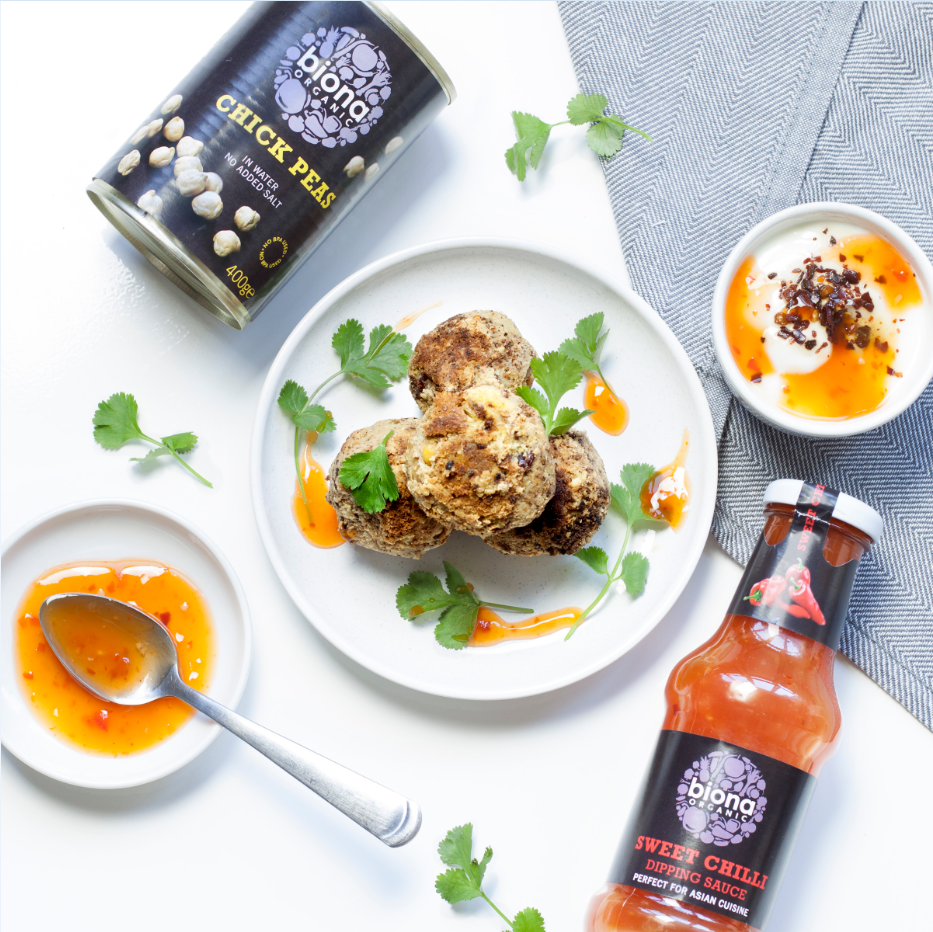 Ingredients:
> 1 Sweet Potato, peeled and cut into large chunks
> 1 can of Biona Organic Chickpeas, drained
> 200g of Chestnuts
> 1 large Egg
> 2 tsp Cumin
> 1 tsp Coriander
> Pinch of Cayenne Pepper
> 1 Garlic Clove
> 85g Biona Organic Dried Cranberries (soaked in water for 10 mins and drained)
> 4 tbsp Biona Organic Virgin Coconut Oil
> 150g pot of creamy Greek-style Yogurt, to serve
> Biona Organic Sweet Chilli Sauce, to serve
Method:
1. Put the sweet potato into a microwave-proof bowl, add 1 tsp water and cook on a high setting for 2 mins. Then mash in a large bowl.
2. Put the chickpeas and chestnuts into a food processer and pulse until well chopped. Tip on top of the sweet potato then add the egg, spices, garlic and coriander. Season generously and mix well with your hands.
3. Add the cranberries.
4. Shape dessert spoon-sized balls of the mix into patties.
5. Heat 2tbsp of Coconut Oil in a large non-stick frying pan.
6. Fry half of the falafels for 2 minutes on each side until golden.
7. Leave on greaseproof paper to drain.
8. Repeat with the second batch.
9. Let the falafels cool for a few minutes before serving with the yogurt, fresh coriander and sweet chilli sauce.
Windmill products used in this recipe